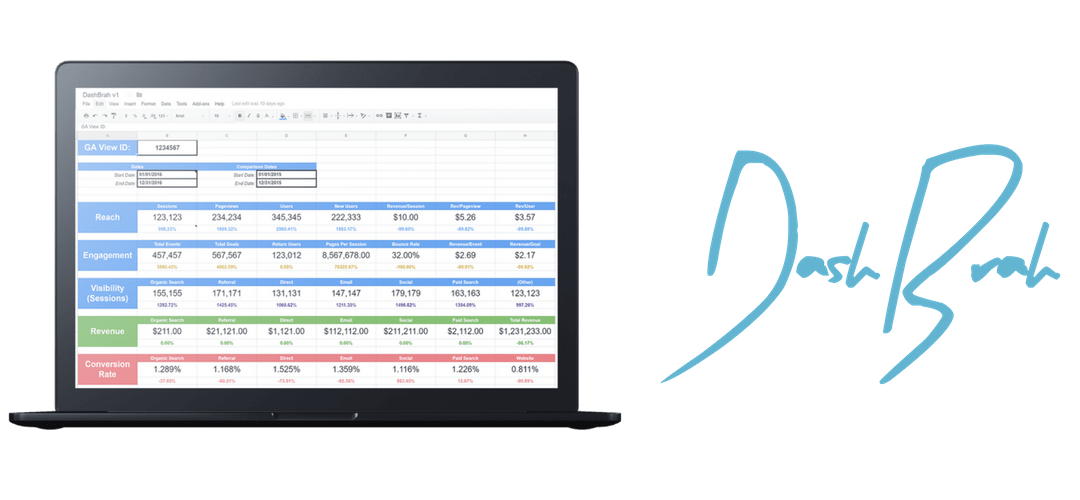 The DashBrah
Ever send out one of those monthly reports and dashboards with messy metrics?
Yeah.. We all do that.
It's just part of our job to report on metrics that fuel the business.
But as "digital" marketers, we need a better way to send progress updates without having to bog down our time by organizing data every reporting period.
There are multiple promotion mediums we need to report on and tons of metrics in Google Analytics.
It gets redundant to pull these metrics one by one, especially when someone asks "how is metric XY and Z doing?"
That's where the magic of the DashBrah Dashboard happens.
The DashBrah is your Dashboard Bro who quickly pulls and organizes these metrics for you.
It uses Google Analytics and Google Sheets to do the work.
All you have to do is tell it which GA ID to pull from and the dates you want to compare.
Then run the report and send it off. Easy as cake.
Download it below!
Connect and Download
If you found the DashBrah useful, please Connect with me on
LinkedIn
.